GREYHOUND: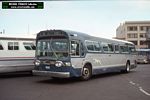 GMC 9620 signed for route M to San Francisco appears to be arriving at the 7th St. station in February 1976. Scan of a slide from my collection added 05/17/17.

EX-MEDFORD, OR AIRPORT:







This GMC 4500 series bus was formerly used at Rogue Valley International-Medford Airport in Oregon. I found it parked on Stillman St. between Second and Third Sts. in San Francisco on January 2, 2011. Seven photos added 05/11/14.

WESTSIDE TRANSIT LINES:
GMC 2135, which appears to be a TDH5302, at gate 7 of the Avondale Shipyards on October 19, 1973. Note the Texaco gasoline station and the Avondale Shipyard pickup truck. One photo from slide in my collection added 09/10/11.