KENNER LOOP:
Two General Motors TDH-3501 (old look) buses were delivered to the city of Kenner in December 1965. These measured 30 ft by 96 in and were numbered 1-2. In 1974 Kenner received two green GM T6H4523A New Looks (35 ft x 96 in) numbered 3-4 to replace the 3501s. The 4523s began serving the new Kenner Loop route that year. Louisiana Transit Company's number 319, a 1966 TDH-4519 (35ft x 96 in) was renumbered 5 and assigned to the service. LTC operated and maintained 3, 4, and 5 for Kenner at its Jefferson Hwy. yard. When the first Jefferson Transit route maps and numbers came out in 1985, Kenner Loop was numbered E5 on the map but not the vehicles.
---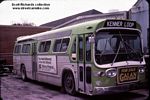 From the collection of Scott Richards, here is GMC 5 at what appears to be the Harahan garage of La. Transit in an unknown year. The reading of Kenner Loop is stenciled over the headsign window. The four rivets next to the teardrop window represent the former location of the Louisiana Transit diamond logo. One photo added 03/09/17.

---

GMC 4 on layover at Williams and Third in 1982. Photo replaced 11/25/08.

---


An unknown number GMC U-turns at 21st St. and Kentucky Ave. in the early 1980s. Two photos added 11/25/08.

---


Kenner Loop's route in 1977: From Williams Blvd. and Third St., west on Third St., north on Alliance St., east on Airline Hwy. (now Airline Drive), north on Williams, east on 21st St., U-turn at Kentucky Ave., west on 21st, north on Williams, west on 38th St., south on California Ave., west on West Esplanade Blvd., north on East Loyola Dr., west on Sunset Blvd., south on West Loyola and Loyola Drives, east on 31st St., south on Williams, east on Veterans Blvd., south on Roosevelt Blvd., west on 21st, and south on Williams to the layover point at Third Street. Service operated Monday to Saturday, with Sunday service introduced in the 1980s on a reduced basis (morning and early afternoon over part of the route).

201 KENNER LOOP:


In 1985 Kenner joined the Regional Transit Authority, which took over the Loop. When the RTA assigned route numbers, Kenner Loop became number 201. They used MAN Americanas, then Blue Birds, then Orion V buses. Minor routing changes took place in the 1990s (such as taking Minor to 3rd, passing 38th to U-turn at Sunset, taking 31st to Arkansas to 32nd). The 2008 routing: From Minor and 3rd, west on 3rd, north on Williams, U-turn at Joe Yenni, south on Williams, west on W. Esplanade, north on East Loyola, west on Joe Yenni, south on W. Loyola, east on W. Esplanade, south on Loyola, east on Veterans, U-turn at Helena, west on Veterans, north on Loyola, east on 31st, north on Arkansas, east on 32nd, south on Williams, west on Kenner Ave., south on Minor to 3rd. The last two trips go out of service at 32nd and Williams, with the buses deadheading back to New Orleans.

---




Orion 197 on 201 Kenner Loop at Williams Blvd. and 25th Street on October 5, 2011. Four photos added 10/10/11.

202 AIRPORT EXPRESS:
RTA put forth a proposal to offer a new 202 Airport Express line operating daily in the morning and evening peak periods. Originating at Elk Place and Canal St., the route would head out Pontchartrain Expwy. and Interstate 10 to Williams Blvd. in Kenner. Stops would be made at Veterans Blvd. and Williams, the north (lake) side of Louis Armstrong New Orleans International Airport, the terminals on the south (river) side, then Airline Dr. and Williams. It then runs express via Airline, Hickory, Earhart Expwy., and Earhart Blvd. to return to the CBD. The route started service on March 20, 2016. The RTA MCI and Orion 40 ft. pages on this site have shots of the 202.

OTHER RTA SERVICE TO KENNER:


Greyhound MCI 4704 at Canal and Baronne Sts. in December 1991 is under contract to the Regional Transit Authority to provide park-and-ride service to the city of Kenner. Route 202 served north Kenner and 203 south Kenner. The park-and-rides were not reinstituted after Hurricane Katrina. One photo replaced and one added November 26, 2008.