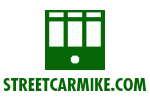 NO RELATION
(THINGS NAMED MIKE, MICHAEL, MICHELLE, ETC.)
www.streetcarmike.com
Page created October 29, 2013. Last updated December 19, 2019.
©2013-2019 Michael Strauch. All rights reserved.
---
CAJUN MIKE'S PUB & GRUB:


Cajun Mike's is located at 116 Baronne St. in New Orleans. Two photos taken October 2, 2016 added 11/06/16.

---
MIKE'S CAMERA: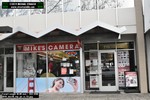 Mike's Camera is a small chain of former Wolf and Ritz Camera stores located in Colorado and the San Francisco Bay Area. This is the Menlo Park location on December 18, 2019. One photo added 12/19/19.

---
MIKE'S LOCKSMITH:







Mike's Locksmith Nissan van at Market and Noe/16th Sts. in San Francisco on May 30, 2013. Six photos added 10/29/13.

---
MIKE'S TRAIN SHOP:



Mike's Train Shop and Hobby Center on Williams Blvd. in Kenner, LA on October 1 and 4, 2016. Three photos added 11/06/16.

---
MICHAEL'S SEAFOOD:


Michael's Seafood on Jefferson Hwy. in Metairie on February 28, 2014 (with truck photos from March 2, 2014). Three photos added 02/28/14 and 03/02/14.

---
MICHAEL'S TRANSPORTATION:

Blue Bird 6505 at Folsom and Beale Sts. (Transbay Temporary Terminal) on August 12, 2010. More photos available on the Michael's Transportation page. One photo added 11/11/13.

---

IC 8457 at 19th and Winston Aves. in San Francisco on August 30, 2016.

---