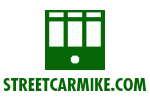 SANTA BARBARA METROPOLITAN
TRANSIT DISTRICT
www.streetcarmike.com
Page created February 1, 2011. Last updated March 25, 2020.
©2020 Michael Strauch. All rights reserved.
---
---
VALLEY EXPRESS:
Valley Express offered weekday commute service from Buellton and Solvang (the Santa Ynez Valley) to Santa Barbara and Goleta. As of August 19, 2011 the Valley Express was discontinued, to be replaced on the 22nd by Clean Air Express. The five MCI coaches numbered 800-805 were reassigned to Coastal Express Limited runs.
---


Two Valley Express MCI buses on US 101 northbound on June 10, 2011. Two photos from another page added 11/26/13.

---
COASTAL EXPRESS LIMITED:
Coastal Express Limited offers two peak hour trips mornings from Ventura and evenings from Goleta/Santa Barbara.
---


MCI 803 on northbound US 101 in Goleta on June 14, 2013. It's deadheading to begin an evening route 88 trip to Ventura. Two photos added 01/16/14.

---







MCI 802 just dropped off at Ventura County Government Center from an afternoon run on June 16, 2014. Location is Telephone and S. Hill Rds. Six photos added 08/07/14.

---



MCI 804 on June 16, 2014. In the first two shots (072-073), the bus has just exited the 126 Freeway and is at Webster St. and S. Victoria Ave. about to circle the Ventura County Government Center. In the third shot (076), the bus is at Telephone Rd. and Lark Ave. having just dropped off at the S. Hill Rd. VISTA stop. Three photos added 08/07/14.

---
FLXIBLE METRO BUSES 501-508:
Former Santa Clara VTA model 40102-6C buses purchased by MTD in 2007. 501 was 9285, 502 was 9250, 503 was 9263, 504 was 9268, 505 was 9261, 506 was 9281, 507 was 9279, and 508 was 9267.

---


Flxible 503 (former VTA 9263) on route 24X leaves the downtown SB transit center on June 16, 2009. Two photos from another page added 11/26/13.

---